I am back! and ready for another RR! these next 2 are MK and Bowser so get ready! the 2 who won the last poll!
For fun will have a free for all,stages and items. 
For glory will be a robin round to prove who the best truely is of that character
Rules
No crit
No EPS
MK only 
For Fun: F4A 8 minutes 3 stock/1v1 5 minute 2 stock best of 3
For Glory: 6 minutes 2 stock best of 3 
For fun; Items:Warp star,star rod,M tomato,dragoon,curry& smash ball
Stages; Free for all: GCO
1v1:Halberd,Dream land, halberd
For Glory stages: Halberd Omega , dream land , GCO Omega
[size=40]In for glory we will be going by percent if SD occurs
I will only accept 1 Meta Knight so send your best to me at bladethecheetah@yahoo.com 
Bins are due on the 14th, the tournament will be the 15th.
SO SEND ME YOUR Meta Knight GOOD LUCK.
Winner gets title of best Meta Knight and gets added to the Roster Round Hall Of Fame 

___________________
This is megaVGmaster but you can call ne MVG, Mega, or Blade.
Winners:
Ike (AmiiBrawl 9)
Ike&Ryu Muscular Headband Bromance (AmiiBrawl V-Day)
Ike (MarioLuigiFans's 3rd Amiibo Tournament)
Cloud (Lame Mini)
Mac (TOAST)
DK (ANT4)
DK(ANT flash fight)
Lucario (SAT final smash 4 tour)
due this morning. send ASAP

___________________
This is megaVGmaster but you can call ne MVG, Mega, or Blade.
Winners:
Ike (AmiiBrawl 9)
Ike&Ryu Muscular Headband Bromance (AmiiBrawl V-Day)
Ike (MarioLuigiFans's 3rd Amiibo Tournament)
Cloud (Lame Mini)
Mac (TOAST)
DK (ANT4)
DK(ANT flash fight)
Lucario (SAT final smash 4 tour)
Starting soon Brackets
http://challonge.com/MKforglory
http://challonge.com/MKforfun

___________________
This is megaVGmaster but you can call ne MVG, Mega, or Blade.
Winners:
Ike (AmiiBrawl 9)
Ike&Ryu Muscular Headband Bromance (AmiiBrawl V-Day)
Ike (MarioLuigiFans's 3rd Amiibo Tournament)
Cloud (Lame Mini)
Mac (TOAST)
DK (ANT4)
DK(ANT flash fight)
Lucario (SAT final smash 4 tour)
being streamed here-> https://www.youtube.com/watch?v=zUUy-WWOJDg

___________________
This is megaVGmaster but you can call ne MVG, Mega, or Blade.
Winners:
Ike (AmiiBrawl 9)
Ike&Ryu Muscular Headband Bromance (AmiiBrawl V-Day)
Ike (MarioLuigiFans's 3rd Amiibo Tournament)
Cloud (Lame Mini)
Mac (TOAST)
DK (ANT4)
DK(ANT flash fight)
Lucario (SAT final smash 4 tour)
Congrats everyone! here are the results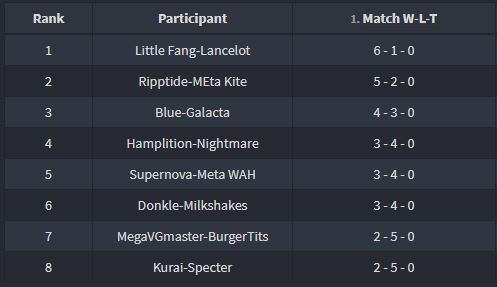 ___________________
This is megaVGmaster but you can call ne MVG, Mega, or Blade.
Winners:
Ike (AmiiBrawl 9)
Ike&Ryu Muscular Headband Bromance (AmiiBrawl V-Day)
Ike (MarioLuigiFans's 3rd Amiibo Tournament)
Cloud (Lame Mini)
Mac (TOAST)
DK (ANT4)
DK(ANT flash fight)
Lucario (SAT final smash 4 tour)

Permissions in this forum:
You
cannot
reply to topics in this forum