Who should the next RR character be?
on 8/5/2017, 4:51 pm
Message reputation : 100% (1 vote)
Who should we have for the next Roster Round?
Crocodile jr.? Zero nose smamus? SHLOOK? Smooshachu? Clod?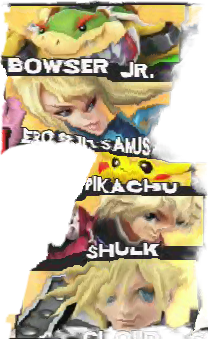 ___________________
:=w=: this is megaVGmaster but you can call ne MVG, Mega, or Blade.
I probably wont use this account much.
Winners:
Ike (AmiiBrawl 9)
Ike&Ryu Muscular Headband Bromance (AmiiBrawl V-Day)
Ike (MarioLuigiFans's 3rd Amiibo Tournament)
Cloud (Lame Mini)
Corrin (Flash BAT)
on 8/5/2017, 5:12 pm
Message reputation : 100% (2 votes)
To anyone considering to vote for Cloud: We just got him. Not many people got him. We have the least amount of knowledge about him compared to the other choices. We don't need to waste it when we are just beginning to learn about him.
___________________
I'm small, but sharp.
The no customs trainer.
Amiibo Tournament Wins 
Peach (Toadstool); xAAA4    
Dark Pit (Emiya); Amiibrawl 13
Bayonetta + Bayonetta (Wicked + Popular); Launch Star Doubles 4
Kojirou (Marth); Zeno's S1 Finale Singles
Berserk (Ganondorf); LAME4 Pool H

Permissions in this forum:
You
cannot
reply to topics in this forum